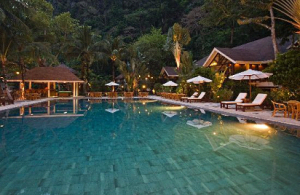 Newly married couples see their honeymoon as chance to strengthen their bonds and to get used to each other. The honeymoon has to be as special as possible, with lots of opportunity to spend romantic moments away from it all. Many spend lots of hours browsing through travel websites and magazines to find suitable exotic honeymoon destinations. It's easy to find a reputable travel agent through the American Society of Travel Agents. Often overlooked are many Asian countries which offer truly unique opportunities to experience a different culture, view the beauty of tropical flora and fauna, and see virgin tropical forests, not to forget miles of unspoiled beaches, lagoons and coves. Here are some of the best:
1. Boracay, Philippines
Boracay island features crystal clear blue waters inhabited by colorful tropical fishes in coves, lagoons and open sea which make for good sailing, snorkeling, fishing, scuba diving, etc. There are sheer limestone cliffs, lush tropical forests, mangrove and bird watching tours, etc. Numerous hotels on Boracay range from about $40 per night in small inns and resorts to more than $500 a night for lodgings in an Boracay island lagoon. Food is cheap, locals, are friendly, and it is well off the beaten path; a perfect romantic honeymoon spot. Other
2. Kota Kinabalu, Sabah, Malaysia
A virtual exotic honeymoon paradise for nature lovers, Kota Kinabalu has thick rainforests, wide sandy beaches, and hot springs. Kinabalu National Park is home to more than 4,500 species of flora and fauna which include 100 mammal and more than 300 bird species. Couples will enjoy hikes, canopy walks 42m above the forest and a variety of water sports activities. Hotel prices start from about $40 a night to in excess of $250 per night at the most popular luxury hotels. Other activities include tours to small towns and villages and fruit markets.
3. Chiang Mai, Thailand
Couples who love history, culture, and good food, the ancient temples, charming boutiques and lively street life will find Chiang Mai irresistible. Surrounding areas of lush green forest also offer a host of activities including elephant rides (an exotic bridal car?), hikes, and river rafting. Chiang Mai provides young lovers an ample mix of activities and isolation to make it an alluring honeymoon location. On the affordable end of lodgings are small inns and B&B's for about $40 a night with higher end hotels going for about $125 per night.
4. Phu Quoc Island, Vietnam
Phu Quoc Island is 50 minutes by plane from Ho Chi Minh City, where honeymoon vacationers can choose to bask in the many stunning beaches, explore the local culture, or go for nature walks. The island is also known for great food served at a number of hotels and restaurants. With over 37,000 hectares, of virgin forest and many areas of protected marine environment, it is not hard to find a remote beach with calm blue waters and lined coconut trees in Phu Quoc. Villas by the sea can cost more than $300 a night but there are affordable rooms offered at about $40.
When looking for exotic honeymoon destinations, few can compare to these places in Asia. While the airfare to Asia may cost a bit more due to distance, hotel accommodations and food are unbelievably more affordable.